About Us
Vila Elegancija – is the best choice for family holidays, tourists and those who enjoy luxury and comfort.  Our apartments promise each visitor full cosiness, relaxation and ease.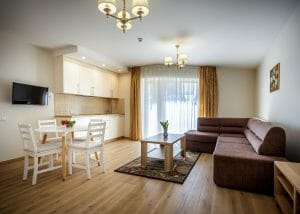 4ba981cb39de41c5a5abc020b70b63b8
Advantages of staying at Vila Elegancija
Attractive area
The apartments are situated in the heart of Palanga town. Vytauto str., nearby the botanical gardens. The most popular Basanavičiaus street can be reached in less than 10 min.
Parking
Do not worry about parking. All guests will be provided with a space in a fenced parking.
Seaside in a walking distance
You can reach the seaside by foot in less than 5-10 min.
Own cooking facilities
The apartments are provided with cosy kitchens and all necessary home appliances, so you could cook your own meals. Just cook anything you desire at any time.